£75m land at Ballee sold to church for £4m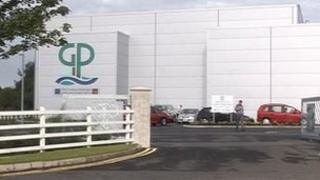 A 97-acre plot of land outside Ballymena in County Antrim, which was once valued at £75m, has been sold to a church for a reported £4m.
Green Pastures, a Ballymena-based evangelical church, said it intended to develop a church and village complex.
The church's current home is at Galgorm on the other side of the town.
The land was sold by the Department of Social Development. It had acquired the property by compulsory purchase in 1970 but never developed it.
In 2007, before the property market crash, the department had been offered £50m for the site by a business consortium.
However, as department's valuation was £75m a deal did not materialise.
The land was then placed on the open market after the original owners were unable to buy it back.
'Very exciting'
About a year ago, the lands were valued at about £9m but could not be sold at that price.
The Green Pastures church was founded in 2007 by Pastor Jeff Wright, a member of the Ballymena bus-building family.
It has a regular congregation of about 900 people.
The new complex will be known Project Nehemiah.
In a statement, the church said: "Green Pastures, the people's church, are thankful to announce the purchase of 97 acres of land at Ballee (subject to contract) for our new home and village complex.
"This is a very exciting opportunity for us to come alongside others, already involved, in making a real difference at the heart of our town."
The £4m price tag is reported by the Ballymena Guardian newspaper.