Denis O'Hara says £4m Ballee land deal is "a shambles'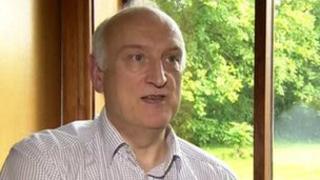 A Ballymena landowner has described a deal to sell off government-owned land, once valued at £75m, to a local church for just £4m as "a shambles".
Denis O'Hara's family once owned about 38 acres of the 97-acre plot at Ballee in Ballymena, but it was vested by the government in 1970.
Mr O'Hara was part of a consortium which had tried to buy the land back.
He said they offered £6.5m for the land just last year. He claimed taxpayers have lost out on the final £4m deal.
Stormont's Department of Social Development (DSD) has now sold the Ballee plot to Green Pastures, a Ballymena-based evangelical church, which intends to build a church and village complex on the site.
The government acquired the plot from a group of Ballymena landowners through a compulsory purchase order in 1970, with the intent of using the land to expand the town.
'Rejected'
The original landowners included Mr O'Hara's father, who ran a 38-acre farm on the site.
However, the land was never developed, and under compulsory purchase order regulations, if the government decides to sell vested land, the original landowners should be offered the chance of buying it back for a fair price.
A number of years ago, Mr O'Hara got together with developers and other landowners in the area and they formed a consortium which made unsuccessful offers to buy the Ballee site from the DSD.
"It's been a shambles from the start. They were offered £37.4m a number of years ago - they rejected that offer," he told BBC Radio Ulster.
Mr O'Hara added that the DSD "could have got £6.5m just over a year ago and now they are accepting £4m - so even the taxpayer has not got a good deal on this".