Manmohan 'Johnny' Sandhu wins right to challenge open prison decision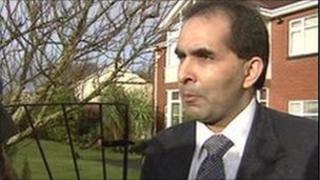 A jailed solicitor who wants to be moved into an open prison regime has won the right to challenge the decision that he cannot transfer because his conviction is terrorist-related.
Manmohan 'Johnny' Sandhu has served three years of a 10-year sentence for inciting loyalist paramilitaries to murder.
A High Court judge granted him leave to seek a judicial review of decisions and policies which prohibit him moving from Magilligan Prison to the Foyleview resettlement unit in Londonderry.
Sandhu served the first part of his sentence at Maghaberry Prison, before being moved to Magilligan.
A further transfer to Foyleview could see him allowed out for town visits or even periods of home leave.
In an October 2010 risk assessment, he was given a comparatively low score of 12.
He initiated judicial review proceedings after this score was declared null and void earlier this year because no-one with terrorist-related convictions is eligible for the process.
His lawyers argued the stance taken by the Probation Board and the governor at Magilligan Prison was unreasonable and a breach of his human rights.
His barrister said: "Mr Sandhu is not a member of a proscribed organisation. He's not affiliated with any organisation while in prison.
"Why is there no consideration given to distinctions between prisoners within a very broadly defined terror-related (group)?"
It was also argued that the decision, reinforced by the governor's refusal to transfer Sandhu to Foyleview, interfered with his right to family life under the European Convention on Human Rights.
After hearing submissions Mr Justice Treacy granted leave to apply for judicial review against both the Probation Board and the governor.
"This case does raise significant issues," the judge said.
He listed Sandhu's challenge for a full judicial review hearing in November.