Edwin Poots considers prescription charges move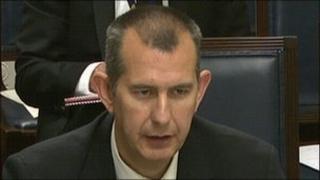 The health minister has said he is currently considering a paper linking the return of prescription charges to a fund for specialist medical drugs.
Edwin Poots said if he is satisfied with the document he will present it to his executive colleagues.
Prescription charges in Northern Ireland were abolished in April 2010 under the former health minister, Michael McGimpsey.
Mr Poots said they may be necessary to pay for specialist drugs.
"Currently we have a whole series of drugs that I would like to buy, be it for cancer sufferers, be it for people with arthritis or psoriasis," the minister said.
"We do have to look at how we can pay for these drugs.
"Currently we pay half a billion pounds per year on our drugs bill - I can't really afford to be putting more money to drugs as things currently stand."
He said that as he was currently required to try to save money, prescription charges could be the way to pay for the needed drugs.
"I have got a more recent paper which I think more closely links introducing prescription charges with the establishment of a specialist drugs fund," Mr Poots said.
"If I am satisfied with that paper I will be forwarding it to colleagues."
He said any proposed legislation would have to be put out for public consultation.
"We will want to hear what the public say because we could introduce a very small prescription charge that applies to everyone," the minister said.
"Or we could apply a slightly larger prescription charge, but that would probably only apply to around 11% of people."