County Antrim bull is shortest in the world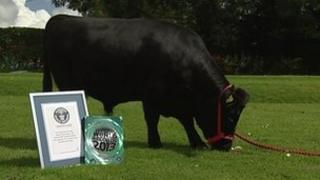 A young farmer from County Antrim is celebrating after his pet was confirmed as being the shortest bull in the world.
Ryan Lavery from Aghalee says Archie the bull was originally destined for the beef market.
However, the family decided to keep him as a pet after he failed to grow to normal size.
The dexter bull has now been recognised by the Guinness World Records.
The bull measures 30in (76cm) high and is dwarfed by other animals on the farm.
"I bought Archie when he was five months old and he was originally destined for beef but by Christmas time he had not grown much," Ryan said.
"We became so fond of him we decided to keep him and he's going to live out the rest of his life with us as a pet.
"Archie, even though he is small, he still thinks he is the biggest cow in the herd and he will grunt and roar at the rest of them.
"Archie is generally OK around other farm animals, like horses and goats, however he can have temperamental mood swings."
Ryan said that he was delighted his bull was in the Guinness Book of Records.
"I knew Archie was small but I never realised he was that small," he said.
"It is just brilliant and amazing to have him as a Guinness world record holder."