FG Wilson: 760 jobs to go in Northern Ireland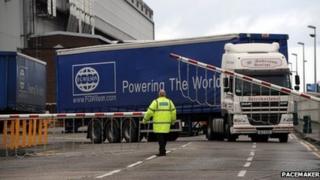 Seven hundred and sixty people are to lose their jobs at engineering firm FG Wilson in Northern Ireland.
In a statement Caterpillar, which owns FG Wilson, said the jobs would go across the company's four Northern Ireland sites.
160 job losses had been announced in July and it is feared there could be hundreds more by the end of 2014.
FG Wilson currently employs more than 3,000 people. It is one of NI's biggest manufacturers.
It said the workers would be a combination of salaried and production employees, as well as agency workers.
Demand slowdown
The company makes diesel generator sets.
Caterpillar is blaming a slowdown in the global demand for its generator sets for the job cuts. It is also moving production of approximately 70% of its small generator sets to China, a move to be completed by early 2014.
"Redundancies of employees and release of remaining agency workers will be complete by the end of 2012 across all four Northern Ireland facilities - Larne, Belfast, Springvale and Monkstown.
"Employees impacted by reductions in 2012 will be offered a Voluntary Redundancy (VR) programme, allowing them to leave the company with an enhanced redundancy package.
"Resources will also be provided to the workforce to assist them during this transition period."
It said redundancies resulting from this would be communicated to employees as they become known.
"We realise the announcements we're making affect a company that has a rich history in Northern Ireland," said Robert Kennedy, Northern Ireland operations director.
"However, given our current structure and economic environment, portions of our portfolio are not competitive, and we need to react accordingly for long-term growth and to compete for industry leadership."
The Unite union said its members were "spitting tacks" at the way they had been treated.
"The company has once again thrown industrial relations guidelines back to Victorian times," Unite's Jimmy Kelly said.
"FG Wilson's contemptuous approach with its workforce is to be condemned. The high-calibre job losses are a crushing blow to the East Antrim area and Northern Ireland.
Restructuring
"The company has not given its workers or their union representatives the opportunity to negotiate a plan which would have attempted to keep some of the affected workers employed."
In July, the firm said it was restructuring its small generator set business to improve efficiency and competitiveness.
At the time it was said up to 260 jobs - 100 of them full-time - could be lost by the end of the year.
Northern Ireland Finance Minister Sammy Wilson, who is also the MP for East Antrim, said he was shocked at the scale of the redundancies at the firm.
He said he would have liked the company to have held more discussions with the Executive to see if there was anything more it could have done.
"They have given an assurance to both Arlene Foster and myself that they will work with us to see whether or not some of the gaps that have been left can be filled by either moving other activities within the Caterpillar Group to Northern Ireland or activities which are currently outsourced, to Northern Ireland," he said.
"We have offered to work with them and Invest NI has offered to work with them to try and restore some of the situation.
"I can understand the devastation.
"When I was informed yesterday by the management of the scale of the redundancies, I was shocked because there was no indication given at any time over the summer, though I had conversations with them over the summer."
Northern Ireland Enterprise Minister Arlene Foster said she had been informed of the job losses earlier this week.
She described it as "devastating news" for the hundreds of families who would be affected, especially when so many people were already struggling in the current economic climate.
"This is really a day when we're reflecting on the human side of this announcement," she said.
"We want to try and help in any way we can and we have been having discussions in the executive on Thursday about what we are doing and what we can do in the future in relation to the economy."
She said she had received a written guarantee from FG Wilson that it still had a long-term commitment to Northern Ireland.
Employment Minister Stephen Farry described it as a "very difficult situation" for all of those who had been directly affected by the redundancies.
"A lot of the people affected by this are highly-skilled workers and indeed engineering is a major component of the economy in Northern Ireland.
Impact
"It is one that we have identified as a priority growth sector.
"I do sincerely hope that many of those affected by this will find other work in NI in the very near future."
Ulster Unionist Basil McCrea said: "What is really shocking is that this is three times higher than what they talked about in July."
He said Northern Ireland could not afford to keep haemorrhaging high quality jobs.
Alliance Party East Antrim MLA Stewart Dickson said the news would be devastating for workers and their families.
"Following the job cuts announced in July I held a meeting with the management of FG Wilson and was not satisfied with answers given regarding the company's future," he said.
"I left that meeting with an uneasy feeling, which unfortunately has turned into a reality today."