Judge rejects $45m loan transfer appeal bid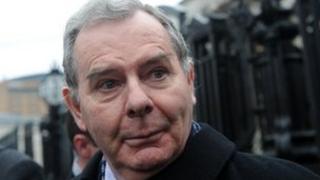 A Virgin Islands-registered firm has failed in its attempt to appeal a High Court decision transferring control of a $45m debt associated with a firm once owned by Sean Quinn.
A ruling in May transferred to the former Anglo Irish Bank control of the loan connected to a shopping centre in Kiev.
The judge reiterated his finding that those responsible for the loan assignment were taking part in an "orchestrated, elaborate and illicit charade".
After hearing fresh evidence, Mr Justice McCloskey said on Thursday that previously undisclosed debt transfers pointed to a "serious misuse" of High Court processes.
Permission for Lyndhurst Developments to appeal his earlier ruling was refused on the basis that any challenge would have no realistic prospect of success.
Chain
The verdict is the latest stage in a protracted legal battle over wider allegations by the Irish Bank Resolution Corporation (IBRC) that assets were stripped to prevent it securing £2bn it claims to be owed by the Quinn family.
The case involved a chain of loan assignments.
Fermanagh-based firm Demesne Investments, of which Mr Quinn is a former director, had been owed $45m by Univermag, the owners of the Kiev shopping centre.
However, in April 2011 Demesne transferred its rights to the debt to Innishmore Consultancy, another Northern Ireland company run by Mr Quinn's nephew Peter Darragh Quinn.
From there the loan was transferred on to Lyndhurst last October.
It emerged on Thursday that two further assignments allegedly took place from Lyndhurst to Ukranian companies Zenith and Elegant Invest.
Lawyers for the IBRC argued the transfers amounted to further attempts to place the multi-million pound asset beyond its reach.
Proceedings took place this year on the assumption that Lyndhurst still held the rights to the debt owed by Univermag.
The judge said: "With each passing phase of this litigation, the correctness of this finding is vindicated and fortified."
He added: "There is clear prima facie evidence that Lyndhurst has had no interest in the Univermag debt since December 2011.
"This renders the appeal moot."