EastEnders visit for Olympics' Chambers brothers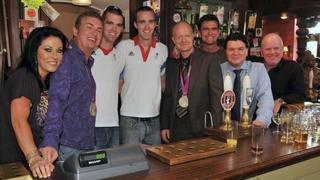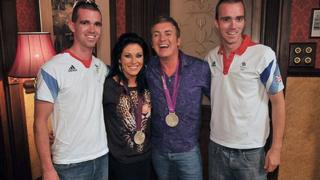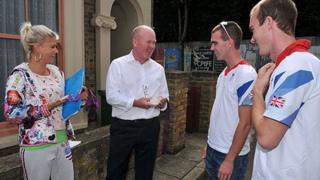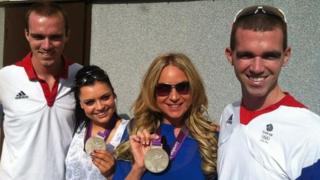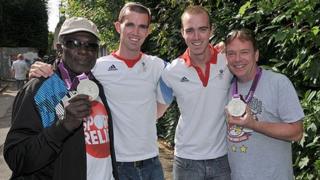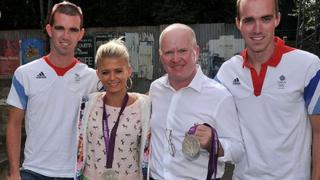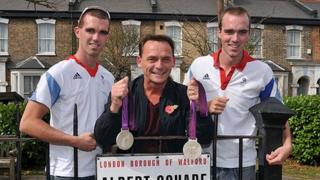 It's time for the Mitchell brothers to move over as there's a new family on Albert Square - the Chambers Brothers!
Olympic rowers Richard and Peter Chambers from Coleraine, County Londonderry, claimed silver medals in a thrilling lightweight men's four final.
They're also big fans of the Walford soap.
What would Peggy Mitchell think if she saw these two in the Queen Vic?
EastEnders is well-known for its cliffhangers, but this summer it was Olympic stories like the "brothers in the boat" that had everyone on the edge of their seats.
Although Team GB had been the favourite to win, they were beaten by South Africa in an epic tussle.
Afterwards, Richard Chambers said the race had been "brutal."
In the afterglow of their Olympic success, the brothers' management team approached the soap's producers about the silver medallists visiting the set as a treat.
Speaking to the BBC about the tour, the brothers confirmed they really enjoy watching EastEnders.
"And when the cast invited us along we just couldn't say no," Richard said.
'Hands off Mrs Moon'
Highlights of the set visit included a tour of the iconic Queen Vic pub and visits to some of the characters' houses.
Lots of the Albert Square residents turned out to meet the silver-winning duo including Scott Maslen (Jack Branning), Jake Wood (Max Branning), Jamie Foreman (Derek Branning), Shona McGarty (Whitney Dean), Danielle Harold (Lola Pearce), Jessie Wallace (Kat Slater), Steve McFadden (Phil Mitchell), Perry Fenwick (Billy Mitchell), Adam Woodyatt (Ian Beale), Rudolph Walker (Patrick Trueman) and Rita Simons (Roxy Mitchell).
The cast members were delighted at meeting the Olympic rowers and some of them took to Twitter after the tour.
"Lovely meeting you, hope you enjoyed Albert Square. Now keep your hands off Mrs Moon!" tweeted Shane Ritchie who plays Alfie Moon.
Jake Wood who plays Max Branning said meeting the brothers had been a "pleasure" and Rita Simons aka Roxy Mitchell tweeted: "well done boys" after she tried the medals on.
EastEnders played a very public role in the run-up to the Olympics when the torch was carried by one of the characters on the set. The Olympic Park also features in the show's opening titles.
The British soap is based in the fictional London borough of Walford in the East End of London.
And, as with every good soap worth its salt, the London 2012 adventures of the Chambers brothers left viewers wanting more and Northern Ireland will be tuning in for the Rio Olympics in 2016 to see if the Coleraine rowers can bring back the gold.