Fermanagh GAA player Ciaran Woods' killer Gary Moane jailed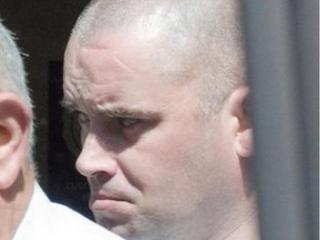 The killer of a former Fermanagh GAA player has been told he will serve at least five years in jail, but may face the prospect of never being freed.
Gary Philip Moane, 36, of Lisolvan Park, Brookeborough, previously pleaded guilty to Ciaran Woods' manslaughter.
Mr Woods, 36, from Lisnaskea, was stabbed to death at a house in Tempo.
A judge said he was not sure Moane would not drink again, so it would be up to the Parole Commissioners to decide if he should be freed.
Belfast Recorder David McFarland said reports on Moane, a father-of-five, indicated that when sober he represented a minimum risk to the public, but with drink taken that risk was greatly inflated, and as such he regarded him as posing a significant risk of danger to the public.
Originally charged with murdering father of one Mr Woods, Moane's guilty plea to manslaughter was finally accepted on the basis he was suffering an abnormality of the mind, when he first attacked and stabbed the victim twice in the chest, then turned the knife on 37-year-old Kathleen McQuaid, at her Edenmore Road home in Tempo.
Moane, who also admitted threatening to kill another man, Damian Crudden, had been accused of attempting to murder Ms McQuaid, but this too was dropped when he pleaded guilty to the lesser charge of wounding.
Prosecutor Margaret-Ann Dinsmore QC, had told the court that Moane, suffering from alcohol dependence syndrome, had met up with Mr Woods and a number of his friends, none of whom he had met before, drinking in a bar in Lisnaskea.
Later that evening they decided to move on to a bar in Brookborough, but were refused entry, because it was late.
It was at this stage an unpromptu party was set up in Ms McQuaid's Tempo home.
Locked in car
At one stage Moane and Mr Woods were alone in the kitchen and Ms McQuaid heard the victim plead: "Dont, dont, dont be doing that... Ive got a seven-year-old daughter, dont be doing this."
When she went into the kitchen she found Mr Woods, standing with blood coming from his T-shirt, who told her "I've been stabbed".
She later locked herself in her car, while Mr Crudden hid nearby, as Moane reportedly kept going in and out of the house, making threatening gestures and shouting: "Come and see your friend now".
Moane later forced Ms McQuaid back into the kitchen, after smashing the car window with a vodka bottle. During a later struggle she was stabbed twice, but despite her injuries, managed to escape and run to a neighbour's house.
As she did so Moane made off in her car, which police later forced off the road.
A defence solicitor said Moane was now a man driven by remorse, who had taken every opportunity in prison to turn his life around and has vowed never to drink again.