Turkey murders: Eyup and Recep Cetin due in court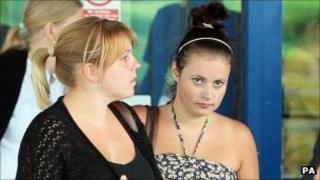 A father and son charged with the murder of two County Down women on holiday in Turkey last August are expected to appear in court on Friday.
Eyup Cetin and his son, Recep, 22, are accused of stabbing Marion Graham and Cathy Dinsmore in August 2011.
Ms Graham's daughter Shannon was the girlfriend of Recep at the time of the killings.
It is the first time both men have appeared in court together.
Marion Graham and Cathy Dinsmore, both in their 50s, were murdered in a wood near the city of Izmir.
The friends were on holiday in Kusadasi, about 100km from Izmir.
Shannon, 15, was on a boat trip when the killings happened. She alerted police when she arrived home and could not get in touch with her mother.
When arrested Recep Cetin told police he was 17 which would have meant he would have been tried as a juvenile, but bone tests proved he was five years older than he claimed.
Mr Cetin will be tried in an adult court along with his father.
Mr Cetin snr was taken into custody several months ago.