New 'one call' bereavement service launched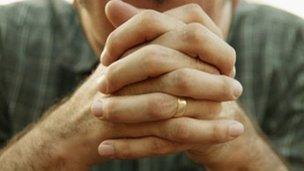 A new bereavement service to help relatives check if they are eligible for funeral costs has been launched by the Social Security Agency.
It is believed that 60% of benefit customers who die are in receipt of more than one benefit or service from the agency.
The new 'one-call' service allows relatives to report a death or make a claim.
It will replace the need for multiple calls to inform all benefit areas.
A surviving partner will now be able to find out in one call if they are entitled to state pension credit, income support, bereavement or social fund funeral payment benefits.
Social development minister Nelson McCausland said many people did not know who to contact to cancel benefits or that they were even entitled to any following the death of a close relative.
"The new bereavement service will ease the process by offering information in these circumstances, and provides additional help to people by checking their eligibility for benefits," he said.
Suzanne Quinn of Cruse Bereavement Care has welcomed the new service.
"This service will give bereaved people the opportunity to deal with all matters pertaining to their loved one's benefits in a single call," she said.
"I believe this will be of great benefit to the bereaved at this very difficult time in their life."
The bereavement service can be accessed by calling the free phone number, 0800 085 2463.
Related Internet Links
The BBC is not responsible for the content of external sites.