Phil Lynott's wife enters US presidential campaign row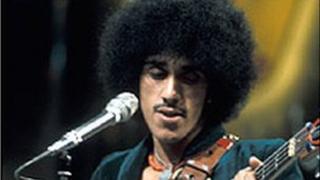 US presidential hopeful Mitt Romney will have to fight to keep using Thin Lizzy music to back his campaign.
The wife of Phil Lynott, the band's legendary frontman, said there was no way the singer would have supported the Republican candidate.
Caroline Lynott-Taraskevics has told the band's record company to issue a cease and desist order preventing Romney from using Thin Lizzy classics.
"It's too late to stop it happening but it'll prevent a recurrence," she said.
"In America, the record company gives permission, so we have told them to issue a cease and desist order to the Republican Party."
Lynott's wife and his mother Philomena were angered after Mr Romney used the anthem The Boys Are Back In Town at the Republican convention in Florida.
The rocker's mother has said her son would have rejected any association with the Republicans, particularly the Christian right-wing of the party and what she called anti-gay and pro-rich policies.
In a message published by Irish music magazine Hot Press, Ms Lynott-Taraskevics said that were Lynott still alive, he would back Democrat US President Barack Obama.
"Absolutely in no way would Philip have supported Mitt Romney or Paul Ryan (Mr Romney's running mate) and he would have been so happy about Obama becoming US president," she said.
Vice-presidential candidate Mr Ryan made his entrance at a recent Republican National Convention to the Thin Lizzy classic.
It is understood international record company Universal Music, which holds the rights to the Thin Lizzy catalogue, is issuing the order to the political party.
Ms Lynott-Taraskevics, who is the mother of Lynott's two daughters Sarah and Cathleen, said she wants to ensure his legacy remains true to him as an individual.
"I am powerless over much of what goes on, but where I have a say, I do what I believe Philip would have done," she added.
Jim Fitzpatrick, the artist who designed many of Thin Lizzy's album sleeves, had personally raised the controversy with Ms Lynott-Taraskevic.