Call centre firm Firstsource 'to create 100 jobs in Derry'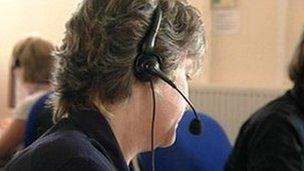 Call centre company Firstsource has said it is creating nearly 100 jobs in Londonderry.
The Indian-owned firm is one of Derry's largest employers.
The extra staff will handle calls for Sky, one of the company's existing clients. Firstsource already has 1,200 employees in the city and another 800 in Belfast.
Foyle MP Mark Durkan said the announcement was a credit to the existing workforce.
"This is very good news at a time when there's not a lot of good news on the jobs front," he said.
"It's a credit to the company, it's a credit to the local management and particularly it's a credit to the existing workforce.
"It is their performance, the quality of their productivity, that has helped extend new work for other people."
Related Internet Links
The BBC is not responsible for the content of external sites.