Rush hour delay in Belfast city as new bus lanes open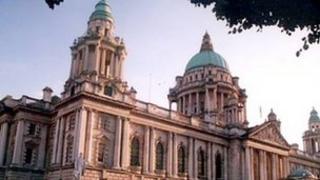 Commuters in cars faced rush hours delays on Monday after new bus lanes began operating in Belfast city centre.
They are on May Street, Donegall Square South and Howard Street from 07:00 BST until 19:00 BST, Monday to Saturday.
A bus gate has also been opened on May Street - it allows buses to get into their lanes without having to navigate through traffic.
The Belfast On The Move project gives priority to public transport, pedestrians and cyclists.
There are plans to create new pedestrian crossing points; 1km of new cycle lanes; to speed up public transport and to create more disabled parking bays.
The Northern Ireland Roads Service said about 60% of traffic using the streets at the front and back of Belfast's City Hall is through traffic which is not going anywhere in the city centre.
The advice to drivers is to use different routes, like the M3, the Westlink and the Outer Ring Road.