The lethal risks of working with slurry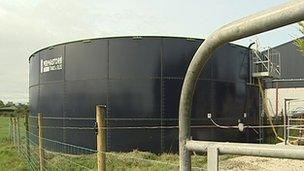 The deaths of three members of a well-known farming family in Northern Ireland have brought the dangers posed by slurry into sharp focus, but what can farmers do to stay safe?
The Health and Safety Executive of Northern Ireland (HSENI) is investigating the accident which claimed the lives of Ulster player Nevin Spence, his brother Graham and his father Noel near Hillsborough at the weekend
The exact circumstances are not yet known.
In June, a 43-year-old man died while working at another farm in County Down - it is understood he fell into a slurry pit on the Redhill Road in Dromore.
The HSENI has produced a safety leaflet specifically targeted at farmers working with slurry.
It warns that some of the gases released when slurry is disturbed can be dangerous to humans and animals, and states that there have been "many serious incidents" including several fatalities.
The gases generated include methane, carbon dioxide, ammonia and hydrogen sulphide.
"In particular, hydrogen sulphide is extremely poisonous to people and animals," the leaflet states.
"Depending on the concentration and exposure it affects the nervous system causing a range of symptoms through discomfort, disorientation, collapse or sudden death."
Harry Sinclair, the President of the Ulster Farmers' Union (UFU) told BBC Radio Ulster: "Hydrogen sulphide is released during the mixing of slurry. It's dangerous and there's no smell attached to it, so you don't actually have any advance warning that it's there."
The HSENI leaflet advises that farmers should not rely on smell to indicate the presence of gas, explaining that "exposure to hydrogen sulphide, at anything other than the lower levels, inactivates the sense of smell".
It makes 11 safety recommendations for mixing slurry, including a warning not to enter a slurry tank "unless you are wearing breathing apparatus with its own air supply and you are connected by harness and lifelife to two people outside".
It also advises that pocket-sized meters are available to measure the levels of hydrogen sulphide gas.
Related Internet Links
The BBC is not responsible for the content of external sites.