Advice clinics offered after FG Wilson job losses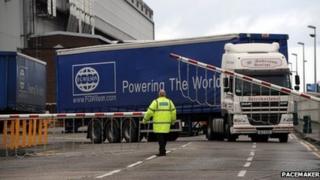 Officials from the Department for Employment and Learning will offer advice clinics to employees affected by job losses at FG Wilson, the employment minister Stephen Farry has said.
The engineering company announced last week it was laying off 760 staff and moving some of its work to China.
FG Wilson currently employs more than 3,000 people.
It has four plants in Northern Ireland - in Larne, Monkstown and two in Belfast.
Mr Farry said he wanted to express "sympathy and solidarity with the workers facing redundancy".
He said his officials would work with the Redundancy Advisory Service in order to provide employees with information and advice on options and support available to them including benefits, employment and further training.
Mr Farry said those affected by the job losses would have "high technical skills, good employability skills and a wealth of experience".
He added that the Northern Regional College, along with Belfast Metropolitan College, was offering to conduct a skills audit of individual members of staff at FG Wilson in order to identify skills gaps, offer retraining and match them with potential jobs.
The employment minister said he acknowledged Northern Ireland had a "serious problem with unemployment".
However, he added that Northern Ireland retained a significant manufacturing presence. He said he believed this could be increased further if corporation tax was reduced to 12.5%.
Caterpillar, which owns FG Wilson, has blamed a slowdown in the global demand for its diesel generator sets for the job cuts.
It is also moving production of approximately 70% of its small generator sets to China, a move to be completed by early 2014.