Livestock smuggling 'epidemic' in Fermanagh and Tyrone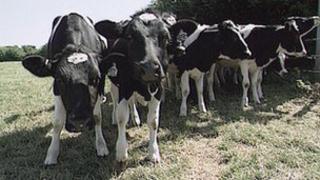 Cattle and sheep smuggling has reached epidemic proportions in parts of Fermanagh and Tyrone, according to the police.
Last week, a farm near Florencecourt was raided as part of a major cross-border crackdown.
More than 150 untagged sheep were seized along with a large amount of cash and cheques.
PSNI Inspector Roy Robinson said rogue farmers were to blame for smuggling across the Irish border.
"It's a big problem where people are changing identification of these animals, and then smuggling them into factories on either side of the border," he said.
"When somebody loses six or 10 cattle on a farm that could be really the whole livelihood for that year wiped out, and if the farm has any loans on his holding, it really could cause the whole operation (to go) under."
He pointed out that in recent days six animals had been taken in Dungannon and four at Rosslea, whilse 160 sheep were stolen in the Florencecourt area a few months ago.
Identification
Insp Robinson said such crime was "devastating" for rural communities.
"Rogue farmers are destroying the whole livelihoods of other farmers," he said.
The police say ear tags can be easily removed from animals and their identification changed - so they are hoping for a change in the system.
"I would like to see a chip system similar to dogs. I've looked at this in England. But it's £4 for each of those chips," said Insp Robinson.
"I've been talking to DARD in relation to this and I would like to see something like that coming in.
"We also have DNA tagging for cattle in the south of Ireland. They can take a piece of the DNA and prove it's the same animal at the factory."
Cattle and sheep rustling is a particular problem in the Clogher valley.
This week police in area will be will launching a scheme to freeze brand cattle.