Claire Millar: My four year struggle with hair loss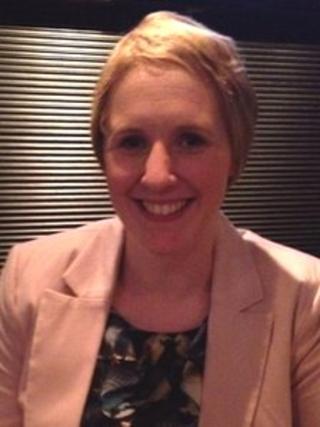 In 2008, I was taking very strong prescribed medication for acne and as I was nearing the end of the course, my parents noticed that I had developed a large bald patch on the back of my head.
Obviously, this was very difficult for me to come to terms with.
We initially thought it was alopecia - but upon further investigation - we discovered it was a side effect of the tablets I had been taking.
At the time, my hair was shoulder length - and it had to be cut short to try and disguise the bald patch as much as possible.
I remember going through a whole range of emotions. I felt embarrassed, upset and scared.
I went to see various specialists including hairdressers and a trichologist (someone who specialises in the health of the hair and scalp).
'Depressed'
I was given herbal tablets, shampoos, sprays and creams - and nothing seemed to be working.
As time went on I got more and more depressed and started to feel less attractive - to the point where some days I struggled to get out of bed and go to work.
Since the day I had to get my hair cut short - I wanted to have it long again.
The back and sides of my hair were not affected at all so they grew normally, whereas the hair on the top of my head was like new baby hair and was growing back very slowly.
Over time - because I was so embarrassed - I started to physically pull my hair out on a regular basis because, strangely, it was the only thing that made me feel better.
I eventually discovered this was a psychological condition - which falls into the same category as things like nail biting.
It has taken nearly 4 years to find a solution.
About 6 weeks ago, I had been to the hairdressers in the afternoon to get my hair done for going out that night.
When I got home - my hair was a complete mess and I cried for well over an hour because I was so upset about how I looked.
It was at that point that I decided I had to find something to make myself feel better.
After searching online - I came across a private company who deal with all types of hair loss - from women who are completely bald, to women like me who have a less severe problem.
'Difficult'
I went to the clinic at 09:30 BST - spent ten hours there getting hand sewn extensions fitted and came out with the shoulder length hair I had wanted since 2008.
I didn't realise how depressed I was about my hair loss until I had the extensions fitted - I've got my confidence back now and I feel much happier.
Hair loss affects nearly eight million women across the UK and can be caused by medication, hormonal changes, illness, stress and it can also be genetic.
It has been in the headlines this summer with Olympic cyclist Joanna Rowsell - who suffers from alopecia - claiming her gold medal without wearing her wig.
Also, TV presenter Gail Porter, who lost her hair in 2005, spoke about it in a BBC documentary.
The extensions that I have chosen range in price from £750 to around £1,500, depending on how many you need.
After that, you pay around £60 every 6 to 8 weeks for maintenance.
It is something that is difficult to talk about and it is a big step to take.
I admit I was concerned that the extensions would look false but, from personal experience, it is well worth checking out the options.