Peter Robinson says Orange Order Belfast parade will be dignified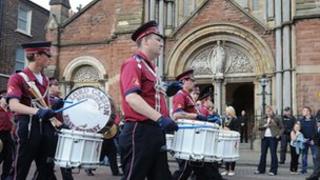 An Orange Order parade taking place in Belfast later this month will be "dignified and respectful", First Minister Peter Robinson has said.
The march on 29 September is part of events marking 100 years since the signing of the Ulster Covenant.
The DUP leader and other unionist politicians discussed the parade with Orange Order leaders on Thursday.
Mr Robinson said there had been a "meeting of minds" and "very positive steps have been taken by the Orange".
"I believe it's important that people from right across the country come to Belfast and enjoy the day to celebrate what was a historic event," he said.
"This is a significant part of a decade of celebrations, both by unionists and at a later stage by nationalists, and we need to have them carried out in a respectful and positive way."
An Orange Order spokesman described the talks as "constructive" and part of "ongoing quiet conversations that the institution is involved in".
The Orange Order said on Monday its decision to play only hymns when passing St Patrick's Catholic Church followed talks with clergy and parishioners, and community leaders in north Belfast.
However, it did not speak directly to the Carrick Hill Concerned Residents Association.
Mr Robinson said he was pleased to hear there had been "positive engagement with the church".
"The parish priest took a very reasonable line that bands being willing to play hymns as they pass the church is a sign of respect," he said.
"What churchman could object to hymns being played outside his church?
"I hope that's the position adopted by the Parades Commission and that they don't interfere with this parade."