Fire extingusher explodes in bin lorry in south Belfast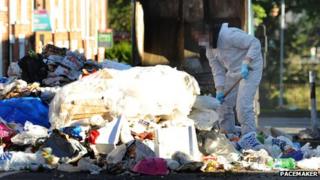 A discarded fire extinguisher is thought to have caused a small explosion in a bin lorry in the Holyland area of south Belfast.
Two bin men were treated in hospital for ringing in their ears following the incident at Carmel Street on Friday afternoon.
Army bomb experts were sent to examine the scene.
The street was cordoned off for a time, but has since reopened.