Translink gets £29m DRD investment to buy 145 new buses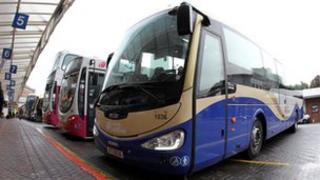 Transport Minister Danny Kennedy has announced a £29m investment in new Goldline and Metro buses for Northern Ireland.
The funding has helped Translink to buy 87 new Goldline Coaches and 58 Metro buses.
The new Metro buses are replacing older vehicles in the fleet to make Metro Services 100% wheelchair accessible.
The additional double decker vehicles will also enable Translink to enhance passenger capacity on busy routes.
Translink confirmed that the Ballymena-based firm Wrightbus is supplying the bodies (or upper frames) of the 58 Metro buses, while the chassis of all 145 buses have been built in Sweden.
The Goldline chassis have been manufactured by the Swedish firm, Scania while the Metro chassis have been built by Volvo.
Mr Kennedy said: "A number of the Goldline Coaches and Metro buses have already gone into service in September with the remainder to be introduced later this year and in early 2013.
"The Goldline coaches will be delivering enhanced express services on key (longer journey) Goldline routes.
"When all these coaches are in service this will see the majority of all Goldline Express services operating with modern new vehicles. The new coaches are of a very high standard of comfort and quality with additional leg room."
Mr Kennedy said his department remained committed to investing in public transport.
"From 2004-05 to 2011-12, my department has assisted Translink to buy over 900 buses at a cost of £135m," he said.
"My key objective in investing in public transport is to encourage commuters and other travellers to use public transport for their journeys instead of the private car and to travel more sustainably.
"In overall terms bus investment has achieved a lot - in Northern Ireland, 67 of the 77 million public transport journeys being made last year took place on buses.
Catherine Mason, group chief executive, Translink said: "This major investment in our bus fleet ensures we continue to provide accessible and attractive bus services for Northern Ireland.
"Our engineers have worked hard with our suppliers to develop these modern vehicles - in particular, our new high quality Goldline coaches have been bespoke designed to include more spacious leg room.
"In addition they boast comfortable leather seating and free wi-fi."
In April, Translink announced fares would go up by an average of 3%.