Charity Commission for Northern Ireland receives over 150 concerned queries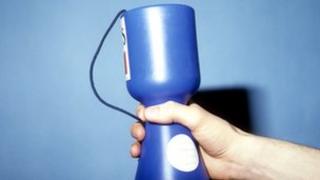 More than 150 concerns about charities have been raised over the past 18 months with the body responsible for regulating them in Northern Ireland.
The Charity Commission for Northern Ireland (CCNI) said the majority of concerns were about fundraising and were made by members of the public.
They included queries over on-street collections, charity shops, and the availability of annual accounts.
The CCNI said charities should be "open and transparent" about their finances.
It has published a new report, advising charitable organisations on their responsibilities when fundraising.
'Criminal investigation'
It stated: "Charity fundraisers must comply with the law as a minimum standard but they should also meet the reasonable expectations of charity supporters. The public shouldn't be afraid to question a charity collector to ask where donations are going."
The report detailed a number of case studies of the complaints it has received since it was granted powers to investigate charities in February 2011.
They included one from a member of the public who had become suspicious about the motives of an on-street collector in their local area.
The CCNI said after receiving the complaint, it worked with police to establish that the fundraiser "had not been granted a collection permit and that they had not in fact been collecting on behalf of a charity".
It added that the case was then taken over by the PSNI as a "potential criminal investigation".
Other case studies included concerns that a shop close to a charity's premises was using signage that gave "a false impression of a connection to the charity".
The commission said it asked the shop to remove all references to the charity from its shop sign and website.
Police permission
In a third case study, a person who had raised "significant amounts of money" on behalf of a church-based charity contacted the CCNI to say they were surprised to hear that the charity was in financial difficulty.
The fundraiser had asked to see the accounts, but this request was refused by the charity in question.
As a result of the case studies, the CCNI has issued guidance to other charities regarding street collections, record keeping practices and subsidiary businesses trading on their behalf, such as second-hand clothing stores and coffee shops.
It stated: "At a minimum, charities should be preparing annual accounts, presenting these to members and supporters at an Annual General Meeting (AGM) and making them available on request."
The CCNI also reminded fundraisers that they should always ask the police for permission before organising an on-street collection and that all collectors should be provided with photographic identification.
CCNI chief executive, Frances McCandless, said in recent years she had noticed a reduction in on-street collections - or chugging as it is sometimes called.
However, she said members of the public may still have problems with telephone and postal campaigns, leading to complaints about "cold calling" and unsolicited mail.
Misconduct
"Quite often what's happening is that charities are using companies to do the fundraising on their behalf. That's a perfectly wise thing to do, often to invest a little bit in fundraising because they get a huge return from that kind of activity, but clearly it's not good if they're putting potential donors off."
Ms McCandless said the CCNI advised charities that they should follow "their own codes of governance".
"There are codes set up by the Fundraising Standards Board, and actually the public can complain to the Fundraising Standard Board if the charity has signed up to their codes, and a lot of the charities in Northern Ireland have.
"The thing for the charity to remember, and for the public to remember is that, even if someone is action on the behalf of the charity, it is the charity's responsibility to make sure they are acting properly and fairly.
"So if someone has said they do not want to be called or contacted by post, they shouldn't be and, on occasion for example, the Fundraising Standards Board will ask for the phone logs to be produced by the company to the charity and then on to the Fundraising Standards Board, just to see exactly how many times somebody has been called if they have complained. So these things are looked into very closely," Ms McCandless said.
In February 2011, the Charity Commission gained powers to investigate claims of misconduct and mismanagement within 6,500 charities in Northern Ireland which have been granted charitable tax status by Her Majesty's Revenue & Customs (HMRC).
Delays in introducing legislation at Stormont have meant that the CCNI cannot yet register or monitor all charities in Northern Ireland.
However, Ms McCandless said there had been significant progress on the issue and she was hopeful the legislation would be passed by the end of this year.