Breaking the Irish language barrier in east Belfast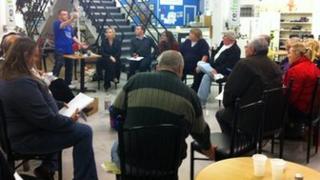 Outside, Union flags and red white and blue bunting beat out a rhythm in the autumn wind.
Inside, the sound of the Irish language rises and falls as about 20 people name familiar objects in what was until now an unfamiliar tongue.
Two thriving classes on the Newtownards Road are connecting a loyalist community with a language that few Protestants grow up with or learn at school.
It is also one that many have regarded as having been politicised in a way that has excluded them.
But, for some, the barriers are coming down.
Reclaim
One of the students, Michelle Porter, works on the Falls Road.
"When I told them I was learning Irish they were highly amused that me, from Protestant east Belfast, was sitting in an Irish class," she said.
"But I think it is good that it is being taught here and the barriers will come down. The barriers have to come down eventually."
For fellow student Jeanette Ervine, widow of David Ervine the former leader of the Progressive Unionist Party, it is also about reclaiming a lost part of Protestant culture.
"It's part of our heritage as well," she said.
"This project is opening it to people again and we feel comfortable with it and are really enjoying it."
The driving force behind the project is Jeanette's sister-in-law Linda Ervine.
Keen
Her own interest began when she discovered from censuses that not only did some of her own ancestors speak Irish but that it was also widely spoken in several of the streets in east Belfast.
She is now taking a sabbatical from her teaching job to be Irish language development officer for the East Belfast Mission.
She says demand for the classes is growing steadily.
"We started our first class last November, and that is continuing, and we started a new beginners class a couple of weeks ago," she said. "Altogether, we have almost 40 people learning Irish.
"Many have said they never had the opportunity to learn Irish before and now they have they are really keen."
One beginner is so keen he takes his studies home with him.
"My house is full of labels," says Robin Stewart.
"When I get the milk I write bainne on it. I write in phonetics because what we are doing here is learning to speak Irish."