Northern Ireland peace walls 'still needed' - study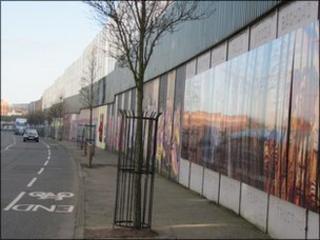 More than two thirds of people living near Northern Ireland's peace walls cannot see a time when they will not be necessary, a new study suggests.
The University of Ulster study was funded by the Office of the First and Deputy First Ministers.
Among other findings was that 78% of people believed segregation of communities was common even where there are no peace walls.
More than three quarters of respondents wanted the walls to come down.
Peace walls have increased from 22 when the Good Friday Agreement was signed, to a current total of 48 walls, according to the NI Peace Monitoring Report.
Author of the latest report, Dr Cathy Gormley-Heenan said: "Sixty-four percent of the general population believe that peace walls should be a big priority for the Northern Ireland government - and 63% of peace wall residents would like to know more about initiatives and discussions about the peace walls.
"This shows that there is a huge public appetite for greater engagement between the communities and those responsible for peace walls."
She added: "There was considerable confusion among peace walls residents about who exactly was responsible for decision-making around the walls in their areas - only 4% correctly identified that the responsibility actually lies with the Department of Justice."
Co-author Dr Jonny Byrne said: "It is important to recognise that 69% of those that live closest to peace walls believe that they are still necessary, due to the continuing potential for violence.
"Although 58% would like to see the walls come down now or at some point in the future, only 38% could actually envisage a time when this would happen."