Captain says Christian faith helping players deal with team-mate's loss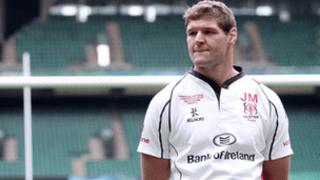 The captain of the Ulster Rugby team has spoken about how the strong Christian faith within the squad is helping them to come to terms with the loss of their team-mate Nevin Spence.
Nevin, 22, his brother, Graham, 30, and their father, Noel, 58, died after they were overcome by slurry gas at their farm in Hillsborough on 15 September.
Johann Muller said his faith was very important to him as an individual and to a lot of players on the team.
"It's been incredibly tough, it's been emotional but you know, we've got to believe and we've got to trust that everything in life happens for a reason," he said.
"Even though that sounds really tough and really difficult to understand, we have to do that.
"To meet up with Nevin's mum and sisters at the memorial on Sunday and to see how strong they are, and almost them comforting us in the way of how strong they are and their faith and their beliefs that they do have, was a huge amount of comfort for us."
Ulster had been due to play against Italian team, Zebre last Friday, but the game was postponed following the tragedy.
The squad will play their first game since the tragedy away to Cardiff on Friday night.
Emotions
Mr Muller said the team would try to keep things as "normal as possible" as they prepared for the game.
"There's enough emotions around and there are enough challenges around," he said.
"If Nevin was in that changing room he would have wanted us to just move on and start playing rugby and put a smile on our faces and really enjoy what we do and that's what we'll try to do."
The captain said it had been an "incredibly tough time", both personally and from the team's point of view.
"It's been emotional and it's been really tough for everybody but you know credit to the players and credit to the management, everybody has been absolutely outstanding," he added.
During his career with Ulster Rugby, the young player won more than 40 caps for Ulster.
Coach Mark Anscombe said the players had been given some time off to grieve but were now back in training.
"Obviously the funeral was last Wednesday. We had Thursday off and we trained on Friday and Saturday," he said.
Support
"It was good for the guys to get them back together in their environment where they're all comfortable around their friends and players.
"It makes it a bit easier for them all being together."
The New Zealander said he had never experienced the death of a player before.
"It's something that you don't wish on anyone," he said.
"It's unfortunate it's happened and it's tough, but we have to move on now.
"We got to meet Nevin's family on Sunday, his mother and sisters.
"They were outstanding and very supportive. They want us to move on and get on with things and Nevin would want that."
Thousands of rugby fans attended a memorial service for the player and his family at Belfast's Ravenhill grounds on Sunday.
Ulster rugby chaplain Rev Andrew Thompson said they mourned the loss of one of "our brightest and best".
He described the deaths of the three men as "an unspeakable tragedy".