Terence Brannigan 'sat on first Maze appointment panel'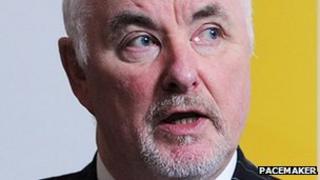 It has emerged that the recently appointed chair of the Maze Development Board sat on the panel that conducted the first trawl for board members.
It was confirmed in written answers from the First and Deputy First Ministers to the TUV leader Jim Allister and UUP leader Mike Nesbitt.
Terence Brannigan was on the panel that conducted an unsuccessful competition in October 2011.
He was replaced by Frank Cushnahan on the second panel in March 2012.
Mr Brannigan was subsequently appointed by that panel.
The TUV leader Jim Allister says he finds "it astounding that someone should sit on an appointments panel, find no one suitable and then resign from the appointments panel only for himself to be appointed as chairperson."
UUP leader Mike Nesbitt said he was "flabbergasted".
Mr Brannigan is chair of Glentoran football club and head of a business called Connected Health. He's also a former chair of the business lobby group the CBI.
Mr Brannigan's successor on the appointments panel, Mr Cushnahan, is a former banker, a former chairman of Red Sky and has held a number of senior non-executive positions in the Office of the First and Deputy First Ministers.
In a statement, a spokesperson for the Office of the First Minister and Deputy First Minister said Mr Brannigan was a member of the selection panel for the "initial competition" for the position of "Maze/Long Kesh Development Corporation Chair".
It said a suitable candidate was not identified and the "competition was re-run and Mr Brannigan applied for the position of chair".
"The Commissioner for Public Appointments advised that Mr Brannigan was entitled to apply and should be treated in the same manner as any other candidate throughout the process," the statement added.
"The panel also ensured, on the Commissioner's advice, that the questions were not the same as those posed in the first competition.
"Ministers are not involved in the interview process."