Ulster Bank crisis: 'Several thousand' customers leave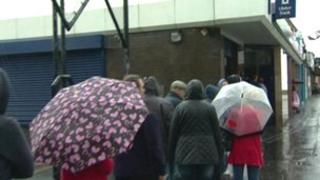 Several thousand customers have left Ulster Bank over the technical meltdown which left many unable to access the money in their accounts.
Thousands of customers were unable to withdraw cash or access their accounts after a software upgrade on 19 June.
During the months of disruption, many customers interviewed by the media said they intended changing banks.
But according to sources at the bank, the actual number who have moved their accounts is around a few thousand.
About 600,000 customers in the Republic and Northern Ireland were affected by the IT problems which led to widespread criticism of the bank.
The source said: "We realise that we have a lot of work to do to win back customers' confidence."
Senior executives from the bank will appear before a joint Stormont committee on 11 October to answer further questions on the impact of the crisis.
The Financial Services Authority and the bank has initiated inquiries into what went wrong. The bank has given a commitment that no customer will be left permanently out of pocket.
The computer failure affected the entire Royal Bank of Scotland (RBS) group, but Ulster Bank took longest to resolve the issue.
Ten weeks after the initial problem, the bank was still warning some customers that their statements may not be correct.
Last month, the Ulster Bank announced details of a compensation scheme for customers who were affected by the major computer failure.
It said it would reimburse all of what it terms "reasonable out-of-pocket expenses" resulting from the major disruption which affected thousands of customers.
Customers were to receive £20 if they visited the bank from 19 June - 18 July and made a transaction.
This was a payment for inconvenience caused. The bank was also to refund charges placed on people's accounts in error.
As a result of the crisis, the Ulster Bank's chief executive Jim Brown said he would forego his bonus for 2012.