Carlisle Circus, Belfast, riots 'threatened anarchy'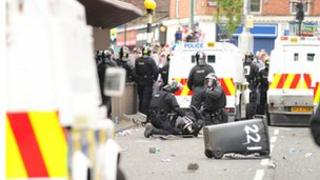 Rioting such as that over over a disputed parade in north Belfast at the start of the month threatens anarchy in society, a High Court has said.
Mr Justice McCloskey also said those involved in violence close to a nursing home had terrorised the elderly and put lives at risk.
He refused bail to a man accused of being at the centre of trouble at Carlisle Circus.
Dale Mason, 24, is accused of rioting and two counts of criminal damage.
The accused, from Hopewell Avenue, north Belfast, is also charged with cultivating cannabis and having Class B drugs.
CCTV footage showed he was at the forefront of the first outbreak of violence at Carlisle Circus and surrounding streets on 2 September, the court heard.
Trouble had flared following a controversial republican parade in the area.
Forty seven police officers were injured during eight hours of rioting, with more hurt over the next two nights of continued disorder.
A prosecution barrister said Mr Mason was seen throwing bricks, heavy stones and roof slates at police.
'Cannabis factory'
It was alleged that he also damaged the roof and a plant belonging to the nearby Clifton Nursing Home, along with the wing mirrors of two police Land Rovers.
He was arrested more than two weeks later, with searches of his home uncovering an alleged cannabis factory comprising four plants and cultivating equipment.
The court heard how he eventually admitted throwing missiles at police and nationalist residents.
Seeking bail, defence counsel Richard McConkey accepted his client could not rely on a presumption of innocence.
"Generally he seems to have admitted everything the police have put to him," the barrister said.
Mr McConkey suggested Mr Mason could be released next week, following Saturday's Ulster Covenant commemoration parade in Belfast.
But rejecting the postponed bail proposal, Mr Justice McCloskey refused bail due to the risk of re-offending.
He said: "The concept of the rule of law applies with particular force to parading or, as known in legislation, public processions in Northern Ireland.
"This conduct is an affront to the rule of law, and this kind of affront to the rule of law threatens the very basis on which society operates because it is consistent with anarchy as opposed to society being governed by legal rules and regulations."
According to the judge those involved in the violence had terrorised, rather than inconvenienced, innocent people in the area.
"It causes terror to those who are behaving lawfully or who are living lawfully in the vicinity, particularly older members of the community who are trying to live in a residential facility bordering the area of the rioting," he added.
"Secondly, it carries with it a very serious risk of severe injury or death."