Sandy Row boxing club 'ostracised', MLAs are told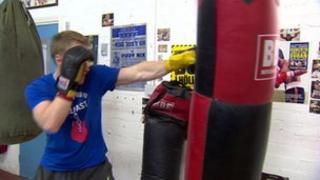 A boxing club in a mainly loyalist area of south Belfast has been ostracised by the wider boxing community, one of its representatives has told MLAs.
The Sandy Row club, whose membership is mainly Protestant, said last month that boxers had suffered verbal and physical assaults in nationalist areas.
Its leaders addressed assembly members at the Stormont Culture, Arts and Leisure Committee on Thursday.
Club secretary Ian McSorley said they had been treated badly.
"We have been boycotted out of the sport, we have been ostracised," he said.
"Other clubs won't come and train with us because they are frightened of going out on a limb.
"Our young people have walked away from the sport because they can't participate in boxing championships."
Strategy
The club claims it has been subjected to chronic sectarianism over the last decade, and has compiled a 57-page report detailing the incidents.
Stormont Sports Minister Carál Ní Chuilín has tasked officials to take the matter forward as part of the development of a boxing strategy, and the Irish Amateur Boxing Association is investigating the allegations.
Mr McSorley claimed the former Westminster sports minister Kate Hoey had told the club there should be a Northern Ireland amateur boxing association instead of the all-Ireland body which currently administers the sport.
He also suggested fighters from his club had lost bouts because of biased refereeing decisions, and called for referees and judges to be selected from both sides of the community.
After the committee meeting on Thursday, assembly members visited the Sandy Row club.
Mr McSorley confirmed that the club had turned down the opportunity to have Ms Ní Chuilín visit the club.
"It's not about photo opportunities," he said.
The club has put forward an eight-point plan to combat the problem including holding tournaments in neutral venues and wearing of neutral colours during events.
Mr McSorley denied the club had gone public on the alleged assaults because of money pledged recently by the sports minister.
Ms Ní Chuilín announced a £3m investment to the sport.
The body which oversees sporting development said in a statement it was working with the club and other groups to reach a satisfactory outcome.
Sport NI said it had provided its south Belfast headquarters, the House of Sport as a neutral venue for weigh-ins, meetings and training courses.
It said it had offered up a facilitator to mediate between the Irish Amateur Boxing Association, Antrim County Board, Ulster Boxing Council and Sandy Row Amateur Boxing Club, but this had not yet been accepted.