Mixed bag for County Down broadband speeds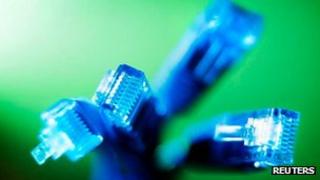 Broadband speeds in most County Down towns and villages are not too bad, but it's a different story in some rural areas.
The current average broadband speed in the UK is 9Mbps, but some people are reporting speeds well below this figure.
Pamela Cooper, who lives on the outskirts of Downpatrick in the townland of Bright, described as "dreadful" the service she receives.
"It's completely inadequate," she said.
'Slow'
"The Northern Ireland Executive has given BT a substantial amount of money to roll out broadband internet access across Northern Ireland.
"BT have done that but they have failed to ensure the service is adequate.
"For example, here in Bright we are getting a 0.5Mbps speed, but when I worked in Downpatrick it was between 8 and 10Mbps."
Ms Cooper said the slow speeds meant routine tasks like online banking or watching programmes on the BBC iPlayer were almost impossible.
"I feel we're living in the 21st century but we are getting a 19th century service," she said.
Joe Dorrian, who lives near Portaferry, on the other side of Strangford Lough, said that with his 0.2Mbps broadband speed, he had no chance of streaming videos for his children to watch.
Mr Dorrian works from home for a security company, and said it was quicker for the firm to post large documents than for him to download them.
Mobile reception
He uses his landline to get internet access, which ties up the phone line, but he faces added difficulties as the mobile phone reception is not great where he lives.
"With technology moving on, I don't think we should have to suffer this poor service," he said.
"Belfast is getting 4G but we can't even get 0.5 meg here."
Coverage of 3G is mainly good in north Down and Castlereagh, but it's very poor in the rest of County Down.
It depends on the mobile carrier but there are mobile phone reception blackspots across the county, with Roselawn, Cloughy, Killeel, Loughinisland, Hillsborough, Katesbridge and Cloughy among the worst affected areas.
Some local people living on the Ards Peninsula even believe they can get a better signal from transmitters on the Isle of Man.