First Derivatives buys three London-based companies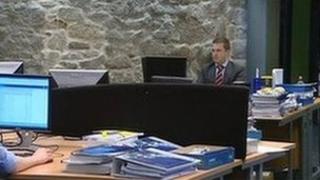 Newry software and consulting firm First Derivatives has bought three London-based companies.
Redshift Horizons, Redshift Horizons LLP and Cowrie Financial provide software and services related to electronic trading systems.
First Derivatives will pay a maximum of £3.15m in a cash and shares deal.
The founders of Redshift and Cowrie, Tom Kozlowski and Anjum Waheed, will remain with First Derivatives.
Brian Conlon, the chief executive of First Derivatives, said that the acquisitions will increase the capabilities of its software services.
He said: "Both companies have successful track records of developing profitable results and excellent service delivery."
First Derivatives has pursued a strategy of buying small technology firms to complement and enhance its main products which are used by investment banks and stockbrokers all over the world.
The firm employs more than 600 people in offices in Newry, New York, London and Belfast as well as in financial institutions in other parts of the world.