Parade calm bodes well for Northern Ireland centenaries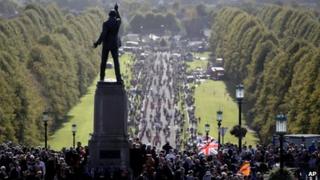 A collective sigh of relief echoed around police headquarters in Belfast when the 30,000-strong Ulster Covenant march passed off without violence.
The relative calm which surrounded the 100th anniversary Covenant parade augurs well for Northern Ireland, as it faces a series of centenary celebrations in the next 10 years.
Coming up is the anniversary of the 1916 Easter Rising, the Irish war of independence, the partition of Ireland and the establishment of Northern Ireland.
There will be more long marches, more mass rallies and more flag-waving.
The colours of the flags will differ but for the police, the challenge will be the same - keep the peace in a divided society.
At the end of the six-mile Ulster Covenant parade, Assistant Chief Constable Will Kerr said: "The day passed off in relative peace and calm.
"Hopefully this will create a more positive platform for dealing with sensitive parades in 2013."
Disputed marches
More than 60 police officers were hurt during three nights of rioting in north Belfast at the start of September. Parade disputes are not just hurting people, but the economy too.
Although the Ulster Covenant parade passed off without trouble, the massive policing operation cost hundreds of thousands of pounds.
Unionists blame most of the problems on the Parades Commission, the independent body set up to adjudicate on disputed marches. It has an anti-unionist bias, they claim. It has to be scrapped, they insist.
Nationalists disagree. They say the source of the friction is the reluctance of Protestant organisations like the Orange Order to talk to Catholic residents in the areas they want to walk through.
There has been more local engagement in recent months, and the decision by some Belfast Orangemen to re-route their own Covenant parade on Saturday evening was a sign of changed times.
However, nationalists will point to anti-Catholic sectarian singing in east Belfast on Saturday, and breaches of Parades Commission rulings, as backward steps.
Sore feet
The truth is that the ongoing controversy over parades is a major issue which the peace process has failed to resolve.
There is now an onus on Stormont politicians to try to find a solution. Sooner rather than later.
On a lighter note, the Ulster Covenant centenary celebration on the green Stormont lawns provided a colourful spectacle, and was enjoyed by Orangemen of all ages.
However, the long walk from Belfast city centre took its toll.
One elderly grey-haired Orangeman looked down at his sore feet when he arrived at Stormont and said wearily: "I think I may have to give the 150th anniversary a miss."