Sean Quinn Jnr appeals contempt of court jail sentence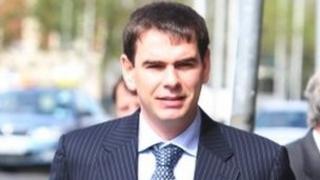 Ireland's Supreme Court is hearing an appeal by the son of bankrupt businessman Sean Quinn against the findings of contempt against him and his jail sentence.
Sean Quinn Jnr was jailed for three months in July for breaching orders to stop him interfering with Quinn International Property Group assets.
A judge ruled he, along with his father and cousin Peter Darragh Quinn, were in contempt for putting millions of pounds worth of international property beyond the former Anglo Irish Bank's reach.
The bank was bailed out by Irish taxpayers and is now controlled by the Irish Bank Resolution Corporation (IBRC).
The IBRC claims the Quinns owe it about £2bn and is trying to recover the money from their property assets on behalf of Irish taxpayers.
Sean Quinn Jnr is in court after his lawyers last week secured his temporary release from Mountjoy Prison so he could attend the case.
The IBRC did not object to his release.
Barrister Brian O'Moore, SC, counsel for Mr Quinn Jnr, has told the court that his client is challenging the finding of contempt and the punishment imposed by the court.
A five-judge Supreme Court, led by Chief Justice Mrs Justice Susan Denham, is hearing the appeal, which is expected to last two days.
Eversheds Solicitors have come off record in all proceedings involving the Quinn family but have continued to represent Sean Quinn Jnr solely for the Supreme Court appeal.
Peter Darragh Quinn did not attend the July hearing and a warrant was issued for his arrest. He remains at large and is believed to be in Northern Ireland.
IBRC did not seek to jail Sean Quinn Snr because it wanted him to be available to take steps to unwind the asset-stripping measures implemented by him and his family.
At the height of his success, Sean Quinn Snr was the 12th richest man in the UK and the richest in Ireland, employing thousands of people, mostly in the cross-border area of Fermanagh and Cavan.
In April 2011, control of his business empire passed into the hands of the IBRC.
Later that year, Sean Quinn declared himself bankrupt in a Belfast court, making him the biggest bankrupt in UK history.
The IBRC challenged his right to bankruptcy in the UK and successfully fought to transfer him to the jurisdiction of courts in the Irish Republic.