John McCallister sacking 'fairly brutal' says Basil McCrea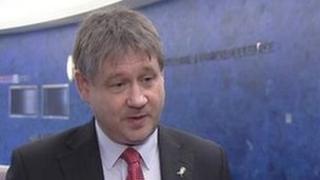 The sacking of John McCallister as Ulster Unionist deputy leader has been described as "brutal" by a party colleague.
Mr McCallister, a South Down MLA, was stripped of the post after making a speech criticising unionist unity.
UUP leader Mike Nesbitt is understood to have viewed sections of the speech as an attack on his leadership.
But Basil McCrea said Mr McAllister was a decent man who had been very loyal.
"John is disappointed about the outcome, there may well have been a better way of dealing with things," he said.
"That is the nature of politics. It can be fairly brutal at times and it was fairly brutal what happened to John."
He said Mr McCallister did not feel he had been speaking against party policy.
In his speech on Saturday, Mr McCallister expressed the fear that the Ulster Unionists were "sleep walking into unionist unity".
He said such a move would deprive voters of choice and entrench tribal politics.
Mr McCrea, who backed Mr McCallister's failed bid to become the leader when he stood against Mr Nesbitt, said he had been unable to talk to his party leader about the incident but would be "interested to find out exactly what the problem was".
Earlier on Good Morning Ulster, Mr McCrea added: "The speech that John gave, the issues that he put out, it didn't seem to me to be that far away from what Mr Nesbitt had been saying at the party conference beforehand.
"Nobody likes to be in a position where they've been fairly ignominiously fired.
"But John is a professional politician and I'm quite sure that he'll take it on the chin and carry on."
In the address that he made on Saturday - to mark the centenary of the signing of the Ulster Covenant - Mr McCallister said recent shared commemorations, shared events and shared statements gave the impression that the unity train "had left the station".
In a BBC interview afterwards, the South Down MLA denied this was an attack on Mr Nesbitt's leadership, insisting he was focussing on the perception of a shift towards unity.
However, Mr Nesbitt responded swiftly by stripping Mr McCallister of his deputy leader's job and reviewing whether the party needed to appoint a replacement.
When the pair contested the UUP leadership in March, Mr Nesbitt beat Mr McCallister by a heavy majority, winning by 536 votes to 129.
In June, the party leader sent out an urgent e-mail to all members making clear that anyone who wished to speak to the media on any subject should receive "clearance" from the press office.
When asked on the Nolan Show if he had such permission, Basil McCrea said he had "informed" the press office of his intention.
One former UUP member said he understood permission was required and that the press office also sought to know what would be said.
"I used to get around that by saying that I did not know what I was going to be asked," the ex-member told the BBC.
The 13 June email was leaked to the BBC's political correspondent, Gareth Gordon, within three minutes.