Belfast university team to target superbugs like pseudomonas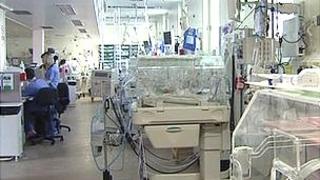 Scientists have said they have come up with a new way to destroy a bacteria which killed four babies in hospitals in Belfast and Londonderry.
Three babies died from pseudomonas in January, while another newborn died in December.
The team from Queen's University Belfast believe they have made a significant breakthrough in the fight against hospital infections.
The new technique uses gas instead of liquid to tackle infections.
As well as pseudomonas, it could also tackle other superbugs.
Professor Bill Graham, director of the university's Centre for Plasma Physics, said: "What we're doing is attacking it using different agents and many of them at the same time.
"With these superbugs as they're called, one of the big problems is that they form colonies and in these colonies they generate a kind of glue that binds them together.
"That makes it very difficult for liquids to penetrate through and that's where the problem lies.
"So what we're doing is we're attacking it with a gas rather than a liquid."
Prof Graham said an electric current is passed through the gas before it arrives at the bacteria.
He said the technique has been used in other industries, including microelectronics.
"The eureka moment did come when we realised it would be able to help us with the superbugs," he said.
"At the moment it's in the research lab, we're working on prototypes that can be use in a hospital environment and we're hoping the trials of that could be within a year."