FG Wilson accounts reveal loss of £5m despite rising sales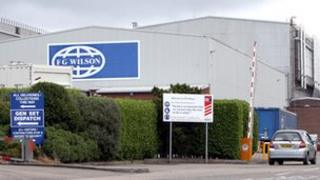 Engineering firm FG Wilson, which is in the process of cutting about 1,300 jobs, made a loss last year despite rising sales, according to its latest accounts.
The Larne-based business saw its sales increase by more than £100m to more than £770m.
However, its profits of £7.8m in 2010 turned into a loss of nearly £5m.
Last month the firm said it was moving some production to China and scaling back in Northern Ireland as a result.
In its director's report, the company said it expects Northern Ireland operations to move towards larger, customised and higher value added projects in the future.
In line with sales, the company's gross profit rose sharply from just over £33m to £40m this year.
But a big rise in administrative expenses from £23m to £33m, and other increases in operating expenses, wiped out profit and left the company in the red.
In 2010, the company also benefited from nearly £4m in income from fixed asset investments, which boosted profits.
In total about 1,300 jobs are expected to go at FG Wilson's three Northern Ireland sites in Larne, Carrickfergus and Belfast over the next two years.