Belfast city centre's wrong way street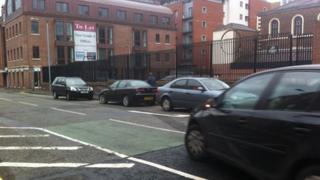 There is certainly no shortage of road signs around Belfast city centre, especially since a new system of bus lanes was introduced.
Naturally, it has taken people time to adjust to the changes, but in a one way street near City Hall they want more signs not fewer.
Existing signage marking Joy Street as one way are being ignored by drivers and have been for almost two years.
Dozens of vehicles drive the wrong way up it during rush hour and no-one seems to care.
So Libby Leary, who lives in the street, contacted BBC Newsline through our Facebook page because she said that for 18 months she had been banging her head off the various brick walls of officialdom.
It was a story that we just couldn't go past.
The problems began 18 months ago when a cycle lane was added and the existing signs were changed.
Down came the big red unambiguous No Entry signs and up went smaller and much harder to understand notices that barred cars and motorcycles - except drivers don't seem to follow the instructions.
No sooner had the new signs gone up than cars started to drive the wrong way up the one-way street outside Libby's house. And not just one or two of them, but scores of them every day, especially during rush hour.
The brush off
I went down to film the story and in the course of an hour I counted dozens of cars and vans ignoring the signs and breaching the rules, including a Belfast City Council bin lorry and one funeral hearse.
"There are hundreds of cars coming down this street the wrong way every day," Libby said.
"They changed the signs 18 months ago and since then it has just been ridiculous."
She had spoken to departmental officials and police but said she simply got the brush off and in desperation she came to us.
To be fair to the motorists who are breaking the law, the signs are not clear and the junction itself is not well marked.
Some drivers are clearly not aware of the restrictions, but others probably know well enough and are blatantly flouting the rules.
When we contacted the Department of Regional Development, which has responsibility for road signs, they accepted there was a problem.
"We are however aware of an issue of non-compliance with the signs and that some drivers have been ignoring them," a spokesperson said.
"We plan therefore to replace them with No Entry signs together with an Except Cyclists plate which we believe are better understood. Although both arrangements effectively provide the same message.
"We envisage that this will be done in the next few weeks."
And that, as they say, is a result