Smithwick Tribunal: Ex-garda tells of Owen Corrigan rumours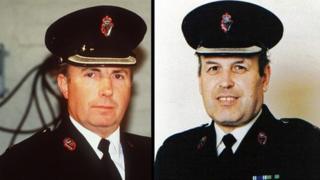 The Smithwick Tribunal has been told of "rumours" in the mid-1980s that a Garda detective sergeant had inappropriate associations with subversives.
The Dublin-based tribunal is investigating allegations of Garda collusion in the IRA murders of two senior RUC officers.
Chief Superintendent Harry Breen and Superintendent Bob Buchanan were shot dead in 1989 in south Armagh.
Mr Corrigan is one of three ex-Garda sergeants under the tribunal spotlight.
All three deny all allegations of collusion.
On Thursday morning, the tribunal heard from retired Superintendent Tom Butler who was based at the Garda's Dublin Metropolitan Headquarters in Harcourt Square for four years up to 1988.
"There were rumours that Owen Corrigan was a maverick and associating with people who were not in the best interest of the Garda Siochana," Mr Butler said.
The retired superintendent was asked if "people higher up" knew of such rumours.
"I presume so," he said.
"My understanding is that he was in a position to go straight to the highest level in the Phoenix Park."
The tribunal continues on Thursday afternoon.
Ch Supt Breen and Supt Buchanan were killed only minutes after leaving a meeting in Dundalk Garda Station.
The Dublin tribunal began public sittings last year and has been investigating the claims for seven years.
The Irish government has given the tribunal a deadline of 31 October to complete its investigation.