David Cameron defends changes to welfare system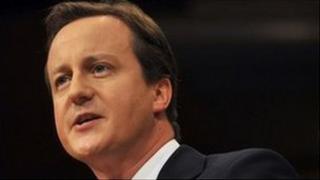 As the DUP and Sinn Fein clash over plans to reform the welfare system the prime minister has described the changes as deeply "progressive and thoughtful".
Speaking in a BBC Northern Ireland interview, he said welfare dependency had harmed too many parts of the UK, including Northern Ireland.
David Cameron's comments come as politicians at Stormont prepare to consider the Welfare Reform Bill which would deliver major changes to the benefits system.
The universal credit will replace jobseeker's allowance, tax credits, income support, employment and support allowance - formerly known as incapacity benefit - and housing benefits with a single payment.
Sinn Fein have called for the changes to be deferred but the DUP argue that changes must go through otherwise the executive would face financial consequences.
David Cameron said: "I think it is vitally important that we say to people who are on benefits and who could work, some of whom have been on benefits for a very long time that you should be trying to work."
The prime minister rejected any suggestions that those who are vulnerable are being targeted.
"This is not just a big stick. There is also a huge amount of compassion and help involved," he said.
"This is a deeply progressive and thoughtful approach about tackling the welfare dependency that has harmed too many parts of our country, including Northern Ireland for too long."
In an interview in Downing Street, the prime minister also discussed the ongoing debate over the reduction of corporation tax rates in Northern Ireland, parading and the campaign of the Ballymurphy families for a full inquiry into the 1971 shootings.
On giving Stormont the power to vary corporation tax rates he said: "The Northern Ireland case we are looking at and will continue to look at."
It has been a year since a committee involving politicians and civil servants from London and Belfast began to examine the issue.
The prime minister denied that the delay on making a decision on corporation tax was harming the Northern Ireland economy.
'Business friendly'
"That decision has to be taken but I am not waiting for that decision to do things to help investment into Northern Ireland," he said.
"We are taking a series of steps, cutting corporation tax, investing in apprenticeships, making it easier to start a business, making it easier to take people on, making sure the Northern Ireland Executive is a business friendly executive."
On the issue of parading and the debate about the future of the Parades Commission, he suggested that it would not be beneficial to become personally involved in the issue.
"I don't think the prime minister should be trying endlessly to second guess the decisions of those politicians to come up with the right answers," he said.
David Cameron was speaking just before he travels to the Conservative Party conference in Birmingham.
Delegates are to be lobbied by friends and relatives from Ballymurphy in Belfast where 11 people were killed in August 1971 by the British Army.
Campaigners want an inquiry and hope the prime minister will meet them.
Mr Cameron did not rule out such a meeting.
He said: "I will have to look at my calendar and how much time I have to do all the different things. But I understand the strength of feeling about the case as about so many cases from the deeply troubled and difficult past of Northern Ireland."
The prime minister said he hoped the families would be well received when they arrive in Birmingham.
"I hope they are going to be met and spoken with and listened to properly as we have done with all of these cases," he said.
The Conservative Party conference begins on Sunday lunchtime and the new Northern Ireland Secretary Theresa Villiers will speak on Monday morning.
Follow Stephen Walker on Twitter @StepWalkTV