Arrest linked to 'mortar-type' bomb in north Belfast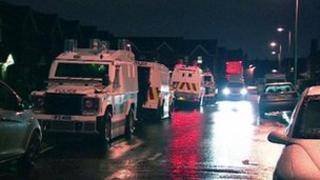 The arrest of a 21-year-old man in north Belfast is linked to the discovery of a bomb on Thursday, police have said.
The man was arrested on Friday by detectives from the PSNI's serious crime branch.
He has been taken to Antrim for questioning.
The arrest follows the discovery of a horizontal-type mortar device in Jamaica Street in Ardoyne on Thursday.
More than 30 families were moved out of their homes for several hours after police discovered the device at the back of a house.
The police said it was a "substantial viable device" which had put the lives of people in the area at risk.