Fuel prices 'change driving habits' for 82% of NI motorists - survey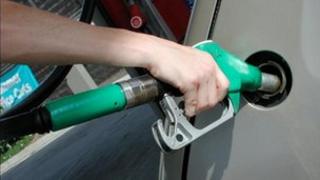 Rising fuel prices have led 82% of motorists in Northern Ireland to change their driving behaviour, according to a survey by the Consumer Council.
The council also said more people in NI were shopping around for cheaper fuel.
It carried out the local survey after the Office of Fair Trading (OFT) announced it was to conduct UK-wide review of the fuel industry.
An OFT delegation is due to visit Stormont later on Tuesday to brief MLAs on the petrol and diesel sector.
They will also be presented with the results of the local survey when they meet staff from the Consumer Council for Northern Ireland.
Antoinette McKeown, chief executive of the Consumer Council, said: "The cost of petrol and diesel has long been a concern for the Consumer Council and we have welcomed the recent call for information from OFT, especially as prices are nearing a return to record highs.
She said she would be asking the OFT "to examine why fuel prices are so high in Northern Ireland compared to other parts of the UK".
"This is a significant issue as respondents indicated that they are potentially spending 14%, or more of the average weekly wage, on fuel costs.
"This is an even more significant problem for consumers living in rural areas with 25% of respondents spending more than £70 per week on fuel.
This equates to 19% or more of the average weekly wage in Northern Ireland," Ms McKeown said.