Lord Morrow calls for probe into missing rapist Edward Connors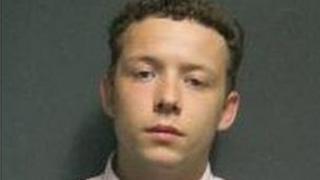 The DUP MLA Lord Morrow has called for a serious case review to be carried out into an on-the-run convicted teenage rapist.
Edward Connors, 19, was jailed after raping an American tourist in west Belfast four years ago when he was 15.
He was released from prison earlier this year after serving four years of an eight-year sentence.
Connors later breached the terms of his probation and absconded to the Republic after failing to appear in court.
He was due to appear in court in Belfast in July.
He was later arrested in Dublin where he was charged with failing to notify the authorities of his name, address and date of birth under the Sex Offenders Act.
He was granted bail by an Irish court in August and has been on the run since.
Lord Morrow said he had submitted a number of written questions to the Justice Minister David Ford and his answers had been "extremely disturbing".
The DUP MLA said he wanted to know why it took so long and why so many opportunities were given before "alarm bells started to ring".
"He committed numerous breaches just three months after being released, on licence for an appalling crime, yet he was constantly placated and clearly placed under minimal supervision," he said.
"Frankly, given the initial crime and the blatant and flagrant ignoring of rules, it is my opinion he should have been arrested and returned to custody immediately the first breach or default in his release terms.
"Having been summonsed to court he fled the jurisdiction resulting in an arrest warrant being issued."
After significant searches Connors was located in the Republic of Ireland where he was arrested and brought to court.
Lord Morrow said while there was little that could be done about the legal system in another jurisdiction, "this entire fiasco could have been avoided if agencies monitoring Connors on his initial release had acted properly".
"I am therefore calling on the justice minister to immediately instigate a serious case review, and although it may be a matter of shutting the gate after the horse has bolted, at least it could prevent such instances in the future," he said.
"In my opinion this whole case has been handled very poorly."