Losing your marbles - 'a lesson in mental health'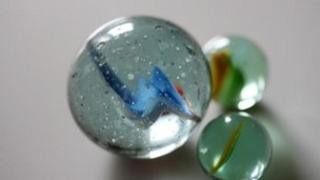 The head of a mental health charity has hit back at political correctness with an event involving Northern Ireland Assembly members.
Calling it "Don't Lose Your Marbles" was deliberate, said David Babington of Action Mental Health (AMH).
"Yes, it is provocative and challenging," he said. "But the name was deliberately chosen. It is about confronting stigma."
Stormont was the setting for a real-life game of losing your marbles on Tuesday.
"Some people might say that mental health sufferers are strange or odd, yet one in four people in NI can suffer from mental health," Mr Babington pointed out.
Teams of assembly members had to steer their way through an obstacle course while holding on to their real marbles.
Each cone on the course represented one of life's obstacles such as debt, bereavement, or illness - events which can have a detrimental effect on mental health.
The event was an interactive way of celebrating World Mental Health Day and raising awareness of mental health.
Meanwhile, Guide Dogs for the Blind, took its campaign to the same venue on the same day.
In an event to raise awareness of what it is like to live with being blind, about 40 assembly members put on blindfolds.
The MLAs, school children and other guests tackled an obstacle course with guide dogs before being led blindfold through the corridors of power in Parliament Buildings.
About 50 pupils from local schools and some Northern Ireland Assembly staff were trained to act as sighted guides for the MLAs.
The training is part of the pilot launch of Guide Dogs' first non-dog based mobility service in its 80-year history - My Guide.
My Guide is designed to address the needs of about 180,000 blind and partially sighted people across the UK who rarely leave their own home.
It works by pairing them with sighted volunteers to enable them to get out of their homes and regain their confidence.