Calls for more support for Northern Ireland carers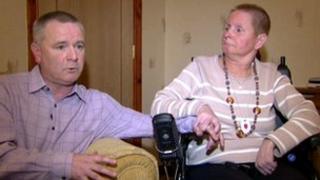 There have been calls for more support for Northern Ireland's carers at a conference in Belfast.
Carers Northern Ireland has said people looking after family members or partners often neglect their own health.
It said a third of the carers it has surveyed have suffered a physical injury.
The organisation believes that more help should be made available to carers.
Richard Burnside, who cares for his wife Susan who has MS, said: "It can put you in very bad places.
"Medically wise, you know, you're going to see a doctor, you're going to the hospital, but you're working all that around looking after Susan first.
"It's like, if Susan is not up for eating one of the days, her appetite's not great or whatever, I'm certainly not going to sit and have something to eat while Susan's there, so everything goes to the side.
"It happens not just to me but to every carer."