Smithwick Tribunal: Doctor says witness too sick to appear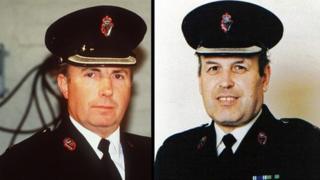 The Smithwick Tribunal has been told it could be five months before a key witness will be well enough to complete giving his evidence.
Former garda Det Sgt Owen Corrigan was recently admitted to hospital.
The inquiry is investigating garda collusion in the IRA murders of two senior RUC officers.
It is thought tribunal chairman Judge Peter Smithwick will seek an extension from the Irish government to complete its investigation.
It is examining the murders of Ch Supt Harry Breen and Supt Bob Buchanan in 1989 in south Armagh.
Cardiologist Dr Niamh Murphy was given consent by Mr Corrigan to brief the tribunal on his health.
The retired officer is one of three former Irish police sergeants under the spotlight at the tribunal.
Dr Murphy said that Mr Corrigan urgently required a heart bypass operation but will need to wait two months before undergoing surgery on account of an infection arising from diabetes complications.
"I don't think he is in a position to attend the tribunal before his bypass operation," said Dr Murphy.
"He is at risk of developing a heart attack in stressful conditions."
Cross-examination
The consultant cardiologist said the recovery period post-surgery is usually three months.
Counsel for the tribunal, Justin Dillon, said that any stress levels should "not be too acute" for Mr Corrigan who is due back to be cross-examined by his own counsel along with counsel for the Garda Commissioner Martin Callinan.
Mr Dillon said the tribunal could be "in suspended animation" waiting for Mr Corrigan to return to finish giving evidence.
Jim O'Callaghan, counsel for Mr Corrigan, said the former officer had given "the lion's share of his evidence" and suggested that he make submissions to the tribunal.
"I think we should reflect on that position" said Mr Dillon.
The tribunal counsel told Judge Smithwick that he did need to hear what Mr Corrigan had to say "on a number of issues".
"It is open to you, in certain instances, to draw inferences if Mr Corrigan does not have the opportunity to be cross-examined."
The tribunal was established in 2005 and has been hearing evidence in public since June of last year.
It had been due to issue its final report last November but was given an extension to early 2012.
A second extension was approved earlier this summer by the Republic's Justice Minister Alan Shatter.
A new deadline of 31 October was set for the tribunal to complete its investigation.
Judge Smithwick is now expected to write to the clerk of the Dail (Irish parliament) to seek a third extension of which the time-scale has not yet been confirmed.