Men charged with kidnapping cattle dealer for 100,000 euro ransom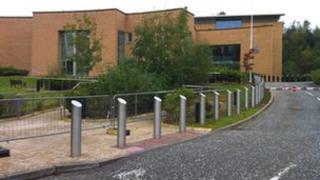 Two men have appeared in court in Dungannon charged with kidnapping a cattle dealer.
Patrick McCall, 39, of Omagh, and Robert Vevers, 55, also face charges of false imprisonment and blackmail.
Police told the court Mr Vevers had brought the victim to NI on 1 October on the pretext of a potential business opportunity.
The man was given to a gang who held him until last Saturday when a 100,000 euro ransom was paid by his father.
The victim was released in Drogheda, County Louth, in the Republic of Ireland, after the money was left in a hedge.
Bail
A detective sergeant told the court this had been in payment of a debt owed to the gang by Mr Vevers, who is from Scotland.
The police officer told the court that the case involved cattle dealers.
The officer said police were at the early stages of a large investigation spanning Scotland, Northern Ireland and the Republic.
Mr Vevers was later refused bail. Mr McCall will apply for bail next Tuesday.
Both are due to appear in court again next month.
A total of four men and a woman were arrested in Omagh in connection with the case on 6 October.
On Monday, a 28-year-old man was released on bail pending further inquiries. On Tuesday, a 38-year-old woman was released unconditionally.
One man remains in custody.