Occupy Belfast intend to continue bank occupation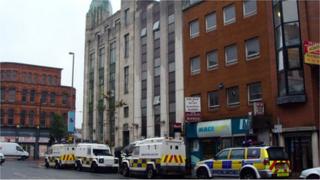 Protesters occupying a former bank in Belfast intend to continue occupying the building despite a number leaving following a PSNI investigation.
PSNI officers entered the building at around midday, following reports that a radio had been thrown from a window, narrowly missing a parent and child.
Workers from NIE were called in to cut off the electricity supply.
Seven protesters left shortly afterwards but Occupy Belfast claims a number remain.
Earlier reports suggested all occupants had left and the protest ended.
One protestor told the BBC the building was starting to be used as a place of refuge for the homeless and vulnerable but said they are now without water, electricity or heating.
Occupy Belfast had maintained a presence in the building since January. The bank had lain derelict for a decade before protesters took it over.