Sandy Row boxing club will not get funding, says MLA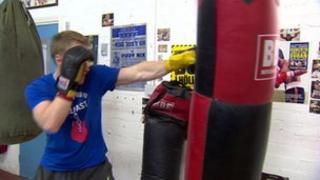 A boxing club in a mainly loyalist area of south Belfast will not benefit from a £3m Department of Culture fund, according to MLA Jim Allister.
The Sandy Row club said in August that boxers had suffered verbal and physical assaults in nationalist areas.
Mr Allister said the sports minister had told him the funding decision was because the club was not affiliated to the Irish Amateur Boxing Association.
He said he was "shocked" by the decision to deny funding.
"This is totally unacceptable and the culture minister needs to reverse this sectarian policy immediately," said Mr Allister.
Sports Minister Carál Ní Chuilín said she condemned sectarianism in sport and that any suggestion her department or its arm's-length bodies were "operating a sectarian policy in relation to boxing is entirely false".
"I would point out that, at this stage, no final decisions have been made by Sport NI in relation to the release of funding under its emerging boxing investment programme.
"Currently all clubs are being given an opportunity to have their needs assessed. In addition, any final proposals on funding are expected to be subjected to appropriate equality screening in line with Sport NI's statutory equality obligations."
The Sandy Row club, the membership of which is mainly Protestant, claims it has been subjected to chronic sectarianism over the last decade, and has compiled a 57-page report detailing the incidents.
Secretary Ian McSorley told the assembly's Culture, Arts and Leisure Committee in September that the club had been ostracised by the wider boxing community.
The sports minister has tasked officials to take the matter forward as part of the development of a boxing strategy, and the Irish Amateur Boxing Association is investigating the allegations.
Mr McSorley suggested fighters from his club had lost bouts because of biased refereeing decisions, and called for referees and judges to be selected from both sides of the community.
The club has put forward an eight-point plan to combat the problem, including holding tournaments in neutral venues and wearing of neutral colours during events.
The body which oversees sporting development said it was working with the club and other groups to reach a satisfactory outcome.
Sport NI said it had offered up a facilitator to mediate between the Irish Amateur Boxing Association, Antrim County Board, Ulster Boxing Council and Sandy Row Amateur Boxing Club, but this had not yet been accepted.