Nelson family escape injury in Newtownards sectarian arson attack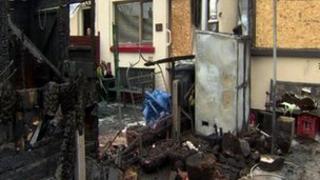 A woman and her three children have been rescued from their burning house after they were targeted by arsonists in Lenamore Park, Newtownards.
PSNI officers and a neighbour climbed onto a roof to bring Janette Nelson's family to safety at about 02:00 BST.
Police believe a sectarian motive was behind the fire. It is the third attack on the family in recent weeks.
A woman who was arrested on suspicion of intimidation has been released on police bail pending further enquiries.
The 32-year-old was detained in Newtownards earlier on Friday.
'Reckless'
Speaking about the arson attack, a police spokesman said no-one was injured but the family were badly shaken by the ordeal.
The children, aged between two and 12, were rescued from an upstairs bathroom window.
Their 38-year-old mother was led from the house by fire officers.
They were alerted to the fire by a smoke alarm after a burning object was pushed through their letterbox.
Ms Nelson's sister, Lizzi McInerney, said she was "absolutely disgusted" by the latest attack on the young family.
"They could have died in there," she said.
"I would have lost two nieces, a nephew and a sister. I'm absolutely devastated and disgusted at how shallow and low people can go."
PSNI Area Commander Michael McDonald said: "This was a particularly reckless and cowardly attack which could have had more serious consequences than fortunately we have.
'Proud'
"The presence of smoke alarms in the house undoubtedly gave the family the advanced warning they needed to allow them move away from the seat of the fire and most of the smoke.
"I am also very proud of the quick reactions of my officers and the neighbour who helped them rescue the children and I would ask other members of the public from neighbouring properties to contact us with any information they may have or if they noticed anyone acting suspiciously in the area, so that we might bring those responsible to justice."