Millie Martin: GP saw no bruising to toddler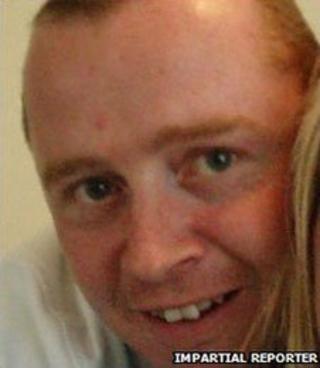 A GP who examined Millie Martin the day before her death has told her murder trial that he did not see any bruising.
Dr Torsten Jentsch treated a burn on the Enniskillen toddler's finger.
Millie was brought to his surgery by her mother with an infected finger.
Her former partner Barry McCarney denies murdering and sexually assaulting the child. Her mother, Rachel Martin, denies allowing her death in 2009.
Millie's burn had been treated at the casualty department of the Erne Hospital but it had become worse and she was taken to his surgery.
Dr Jentsch said he had no other cause for concern and did not see any marks on her face or chest.
He told police: "Millie was not shy. She came up to me herself to show me her finger and let me examine it and touch it."
He said he formed the impression that Rachel Martin appeared "quite sensible".
The GP agreed with Ms Martin's defence barrister that for the first year of Millie's life her medical history was "profoundly normal and unexceptional" for a child that is developing well.
Rachel Martin's stepfather, Noel Graham, said that Rachel had lived with the family for five months after the baby was born, before moving to Glebe Park in Enniskillen in February 2009.
He first met Barry McCarney at Millie's first birthday in September 2009.
He told the court that on 8 December 2009, Millie was in exceptionally good form.
Mr Graham said she had started dancing to the ringtone on her grandmother's phone so they repeatedly played the tune.
He said Millie was enjoying it because she knew she was the centre of attention.
He said that two days later, Millie was "very clingy" and described her as being "full of the flu".
Mr Graham said one of her eyes was partly closed and both eyes were "very runny and bloodshot".
It was that night that they got the phone call to go to the Erne Hospital, the court heard.
Noel Graham will continue his evidence on Monday .